September 2023
A Story From
Innovation Events & Programs
Great ideas can only become reality with the right support, resources and guidance. This is why we are launching the Nestlé YEP Talks - our new series of free webinars for innovative minds eager to shape the future of food.
Connect with experienced entrepreneurs and top experts to get their advice and practical tips on how to build your own business.
About the webinar
"Unlocking your Ideas: How to Accelerate your Start-up Creation"
Starting and growing your own successful business is a challenging journey. What steps should you follow? How can you overcome all bumps in the road? What about finding partners and scaling up your start-up?
Join us on 31 May 2023, at 3:00 PM CEST and our guest speakers will have all the answers.
Not sure if you can make it? Sign-up with your email and you'll receive the webinar recording!
At the end of the webinar you will have a clear understanding of how to turn your idea into a viable solution, secure funding and generate first revenue, find the right partners and scale-up your business. You will also find out how Nestlé can support your start-up's growth and how to collaborate!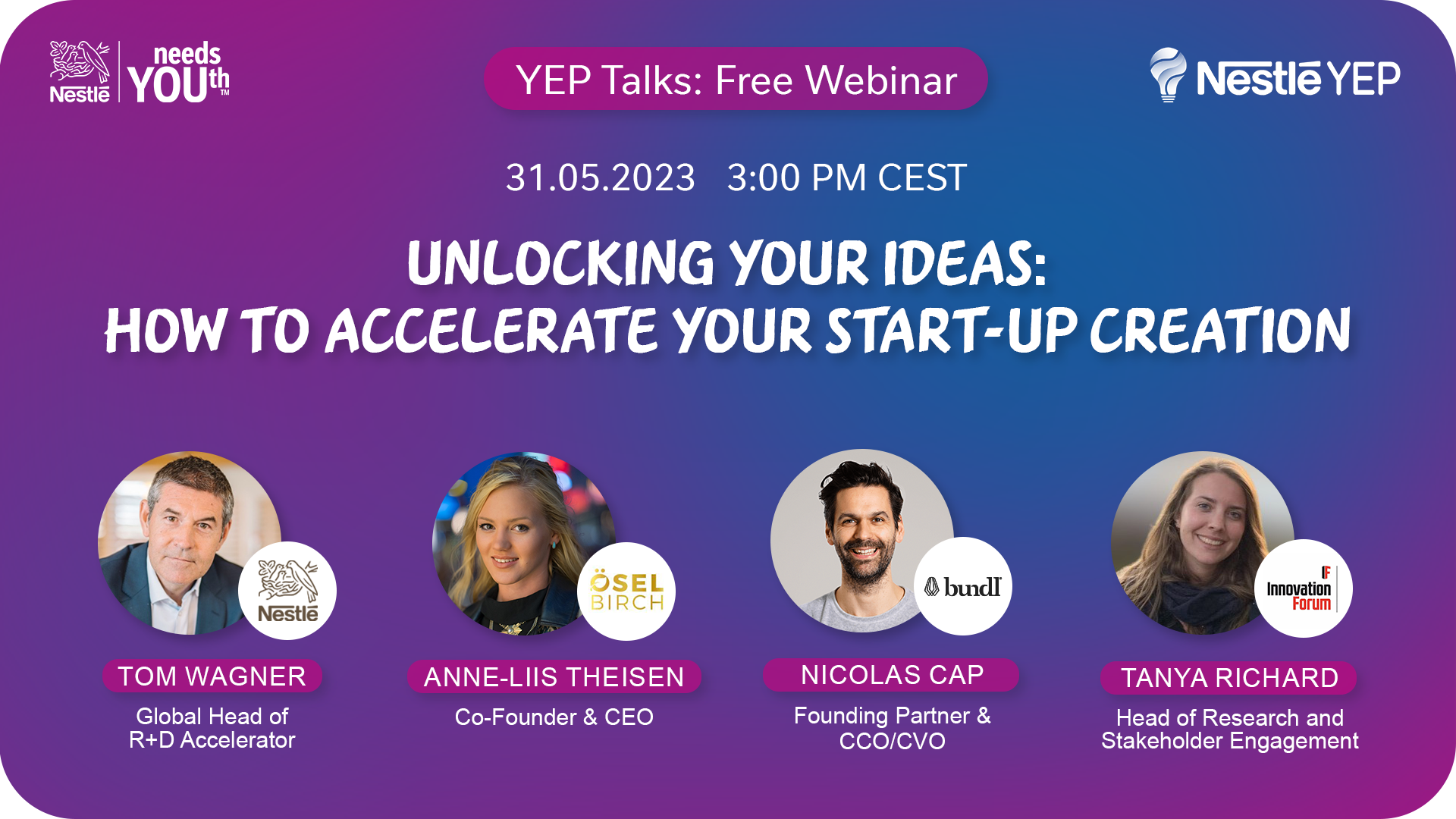 Guest speakers
Tom Wagner is the Global Head of the R+D Accelerator here at Nestlé. With over 25 years of experience in the F&B industry, he has been a leading force in food innovation, turning scientific research and technological capabilities into impactful consumer solutions, and leading team of innovators in developing and launching their product solutions.
Anne-Liis Theisen co-founded ÖselBirch back in 2016 to help preserve biodiversity and bring consumers ethically sourced, healthy refreshment drinks and food supplements. Taking part in the Nestlé R+D accelerator early on helped her team re-design their production processes, allowing them to scale up and accelerate growth. As the company's CEO, she has been driving her team forward on their environmental mission.
Nicolas Cap is a Managing Partner & Corporate Venture Builder at Bundl, a Belgium-based leading venture development company. He's got an entrepreneurial spirit, with over a decade of experience in connecting corporations, start-ups and investors. He has worked on over 200 innovation projects, helping companies explore new markets and build ventures from the ground up.
Moderator
Tanya Richard is the Head of Research and Stakeholder Engagement at Innovation Forum, a London-based company driving sustainability in business through leading projects and conferences. With over 5 years of experience, she will bring the energy in our upcoming YEP Talk.